Kecil & Daddy looking out the hotel window
At the end of our
train trip
, we arrived at the City of
Batik
, Solo. We were picked up and sent promptly to the hotel. It was an interesting hotel, with ornate decorations that befit its location in the city of
Batik
. Check out the lobby and the decorations on the wall:
Hotel Lobby
Mama making use of one of the many mirrors in the room
The hotel even boast a Christmas tree since it was shortly before Christmas. The tree sure captivated the Little One.
'Teddy Bear' Tree
As we arrived shortly before lunch, we spent the day checking out the city, which include a tour into one of the
keraton
(palace) in the city.
Serene courtyard with trees planted in geometric symmetry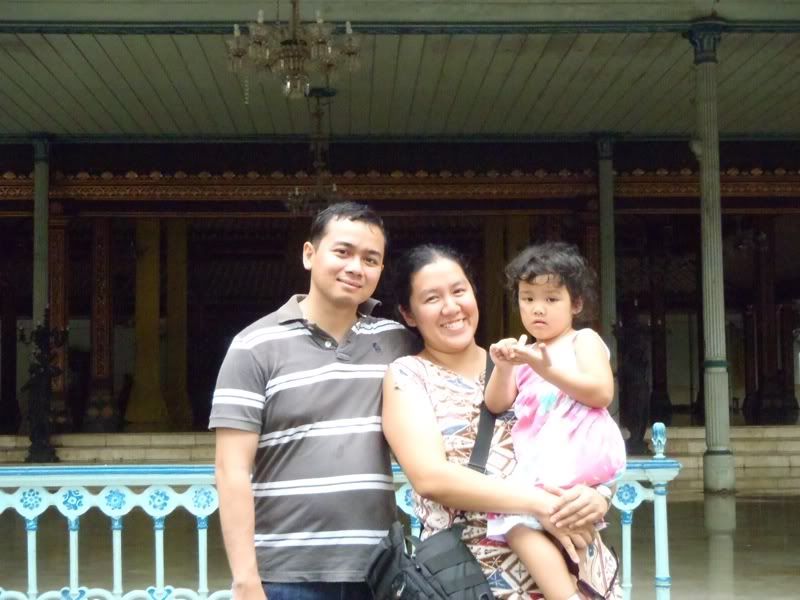 Three of us in front of the reception hall
Visitors going into the courtyard are actually required to either wear proper shoes or go barefoot. Since Mama did not wear shoes (on holiday, yes?), we all went barefoot. But actually Kecil cheated, since she only wanted to be carried around rather than walking on her own.
We took it light that first day, due to the morning train as well as our plan for the following day. So, other than going out for dinner and checking out the new (and only) mall in town, we did not go anywhere else that day.
We'll continue on the next part of the holiday in the next post. Cheers!